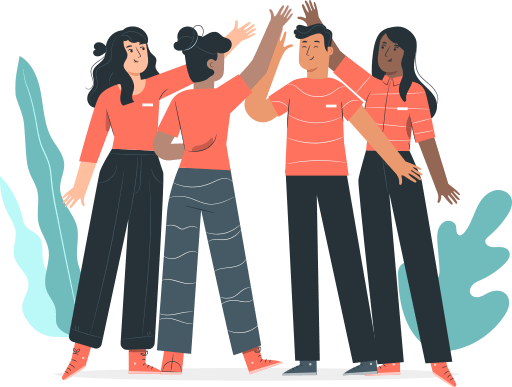 Our common project? To create the company of tomorrow.
A company in which we are all proud to work.
A company thatlistens to its members, that is caring,
supportive and collaborative.
A company in which everyone invests to their full potential.
A company that allows you to be the internal leader of the projects of your choice.
Want to develop a gaming community or a climbing team?
Anything is possible!
In our company, whether it's formally or informally after work, we
enjoy gatheringand getting to know each other better while having a good time.
each other
Meeting for lunch, afterworks, teambuilding activities, annual parties and welcome drinks are all part of life at 5 DEGREES! Want to take a look? See for yourself and check out our Instagram account. ?
We're waiting for you!
The proof is
our employees share their satisfaction with you:
97%
of our employees want to get involved in the life of the company beyond their mission
87%
of our employees recommend 5 DEGREES to a friend
5 DEGREES to a friend
---
You wish to contribute to the development of 5 DEGREES or participate in the moments
collective? Do you have any ideas to make the adventure even more exciting?
Come and offer us your vision and find your place within our teams!